Uploading small files, Demo
We have some microarray probes for Zymoseptoria tritici and we would like to see where they map to the genome.
| Probe | Chromosome | Start | End |
| --- | --- | --- | --- |
| P1 | 7 | 440856 | 451745 |
| P2 | 7 | 463301 | 478859 |
| P3 | 7 | 471329 | 489407 |
For our data, we have chromosome coordinates and a name for each feature. We can put our data into BED format as follows: chr7 440856 451745 P1 chr7 463301 478859 P2 chr7 471329 489407 P3
You can add data from a Region in Detail page by clicking on the Custom tracks button at the left.

Alternatively, go to a species homepage and click on Display your data in Ensembl.

A menu will appear: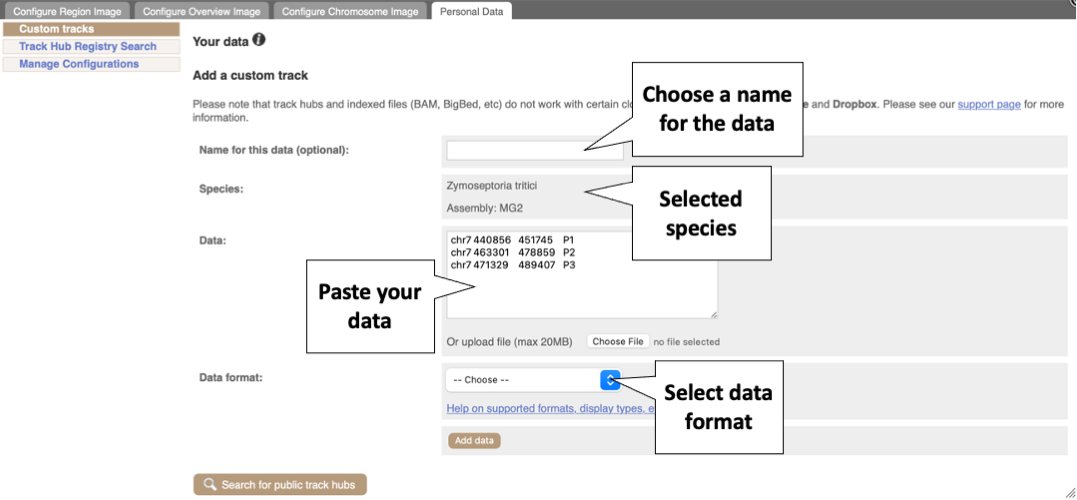 The interface detects file types if you upload or attach a file. When you paste in your data, it can't do this so we have to tell it what our file type is. It will give you an option where you can select BED. Click Add data.
You should get to a dialogue box telling you your upload has been successful. Close the menu to go back to your region of interest.

To have a look at the uploaded data, click on Custom tracks.

If you've got an Ensembl account, you can save this data to your account. Accounts are free to set up and allow you to save configurations and data, and share with groups.